I'm going to be moving cities within the next 2 years and I was curious to find out where the most spiritual cities in the US are. After all, I want to be surrounded by like minded spiritual seekers and of course beautiful nature and wildlife.
I came to find out that there are dozens of spiritual communities all over the United States.
Whether you're looking for a spiritual vacation spot or a city to move to with a large spiritual community, this is the resource that can help you find it.
Here's the list I came up with using my specialized rating system: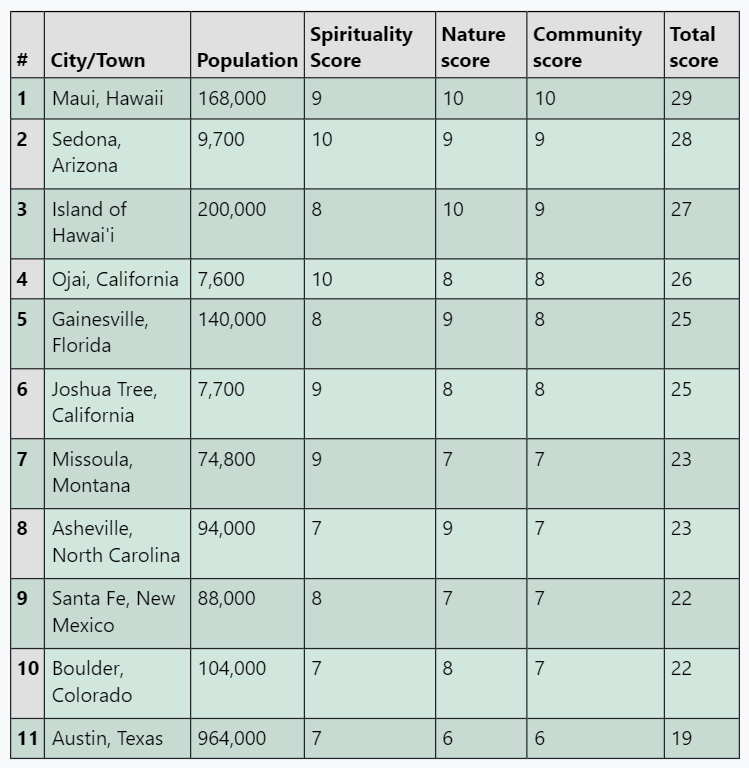 The spirituality score was determined by evaluating the number of spiritual locations and businesses in the area. For example: meditation centers, Hindu temples, Ram Dass gatherings, & retreat centers were all accounted for.
The nature score was determined by the diversity and amount of nature around the area. Things like parks, nature reserves, and type of climate were taken into account.
The community score was determined by population size and friendliness. Cities with more spiritual community oriented spaces and centers received a higher score.
1. Maui, Hawaii
The second largest of the Hawaiian islands, Maui, is a spiritual oasis in the Pacific. Home to the late Ram Dass for 15 years before his death, Maui hosts one of the largest spiritual communities in the world.
A large spiritual community was established in Maui when Ram Dass retired on the island in 2004 bringing spiritual seekers flocking there years after. Today you can find dozens of retreat centers, yoga studios, meditation centers, and more that are well established on Maui.
Apart from the large spiritual community there is an abundance and diversity of wildlife on the island to explore and bask in. With perfectly warm weather all year round, Maui is truly a peaceful oasis.
Notable locations: Temple of Peace Healing Sanctuary, Maui Dharma Center, & Hanuman Maui
2. Sedona, Arizona
Sedona, Arizona has long been held as a deeply spiritual location in the US. This location is known as one of the most powerful spiritual energy vortexes in the world.
Visitors say you can feel the difference in the energy of Sedona. The powerful energy flowing through Sedona is said to be deeply healing, making this location a prime place for spiritual cleansing and healing.
There is an abundance of healers, retreat centers, and spiritual businesses in the area. Sedona is particularly well known for the number of psychics and mediums located there as well.
Apart from the incredible spiritual energy and community in Sedona, this location is in the heart of Coconino National Forest. The weather is warm to hot all year round and hosts beautiful subtropical and semi-arid wildlife.
Notable locations: The Global Center for Christ Consciousness
3. Island of Hawai'i
The largest Hawaiian island finds its way to #3 on the list as a spiritual and natural hub. Though there are less spiritual centers than Maui, the big island has a deep spiritual community and is much more affordable than Maui.
The Hawaiian islands are believed to be infused with an abundance of prana or spiritual energy, specifically on the western Kohala Coast. The idea that the Island of Hawai'i is an energetically healing place is rooted in the ancient Hawaiian culture even before Westerners settled the island.
There are several ecolodges that connect spirituality with the beautiful nature of the big island. The islands also hosts several spiritual, meditation, and retreat centers.
Notable locations: Center for Spiritual Living & Konalani Yoga Ashram
4. Ojai, California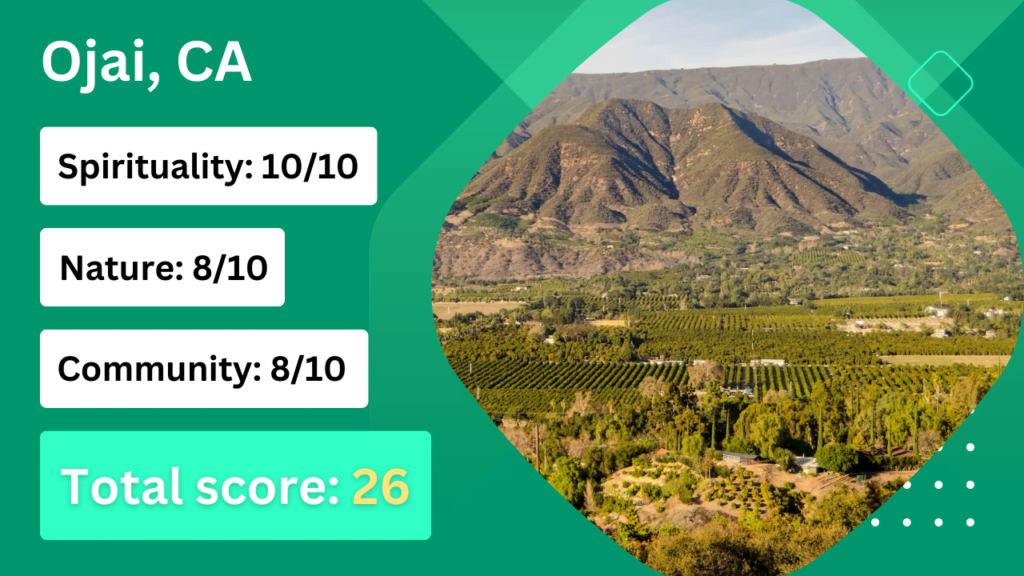 The first California location to make the list is the small town of Ojai. This town is known for its deep spiritual traditions and is believed to be another great energy vortex.
Thousands of years ago Native American tribes believed Ojai to be a spiritual energy hub and to this day psychics, healers, and spiritual seekers find it to be powerfully spiritual place as well.
One location is thought to be a particularly powerful place to meditate: Meditation Mount.
Ojai as a whole is surrounded by beautiful mountains and forest as well as being home to several spiritual centers.
Notable locations: Meditation Mount & The Krishnamurti Center
5. Gainesville, Florida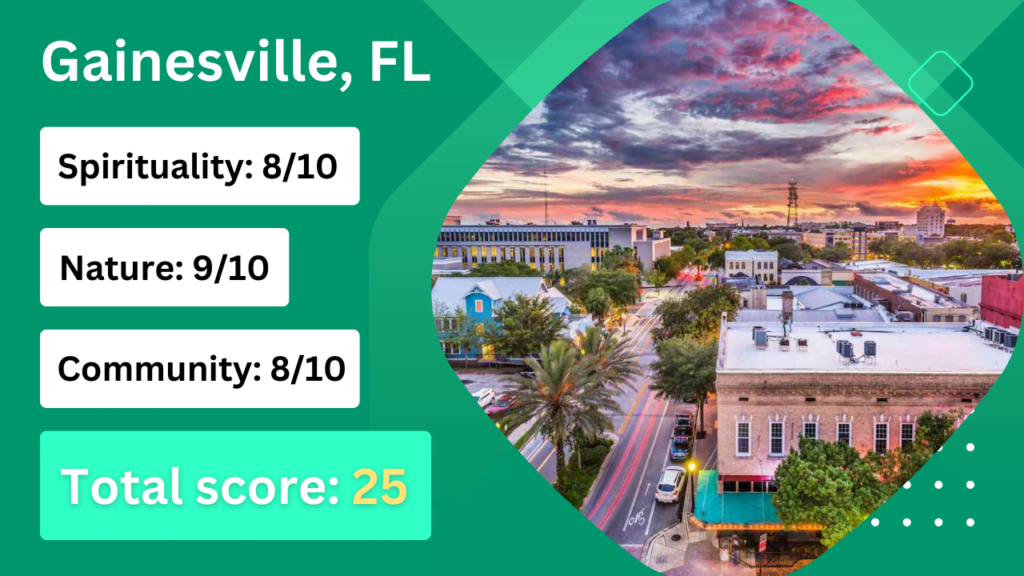 Gainesville, Florida gained it's spiritual reputation in the 70s as a haven for new agers and hippies. Since then it's grown into a matured spiritual hub surrounded by palm trees and several state parks.
There are plenty of meditation, spiritual, and retreat centers around the area to explore and get your spirit filled for the day.
Gainesville also hosts many spiritual groups such as the "Philosophical Self Inquiry Group".
Though there are many spiritual hubs scattered around Florida, Gainesville appears to be the largest in the state. Gainesville, FL is also home to beautiful wildlife, warm weather, and an affordable cost of living.
Notable locations: Temple of The Universe & Tu Viện A Nan Buddhist Temple and Statue Park
6. Joshua Tree, California
Joshua Tree is thought to be one of the most powerful spiritual locations in the US. This town is thought to be able to balance your spiritual energies and was considered sacred land by the native inhabitants.
With this powerful spiritual energy inhabiting Joshua Tree, many spiritual seekers and healers have opened up centers and businesses in the area. Joshua Tree, CA is home to a few spiritual centers, though significantly less than other locations on the list.
On top of all that, Joshua tree is located in one of the most beautiful national state parks with 3 different ecosystems & 57 mammalian species. This town is also one of the most affordable towns in a state known for a high cost of living.
Notable locations: Institute of Mental Psychics
7. Missoula, Montana
Missoula, MT is was a surprise location to me during my research. This medium sized town in Montana is a spiritual oasis in the mostly barren upper middle states of the United States.
Missoula is home to many meditation and yoga studios. This Montana town has a quite deep meditation tradition. Missoula's spiritual focus tends towards the mindfulness traditions of Zen.
If you're into meditation and want to dive into the yoga and meditation traditions of spirituality in a colder climate, Missoula may be perfect for you.
8. Asheville, North Carolina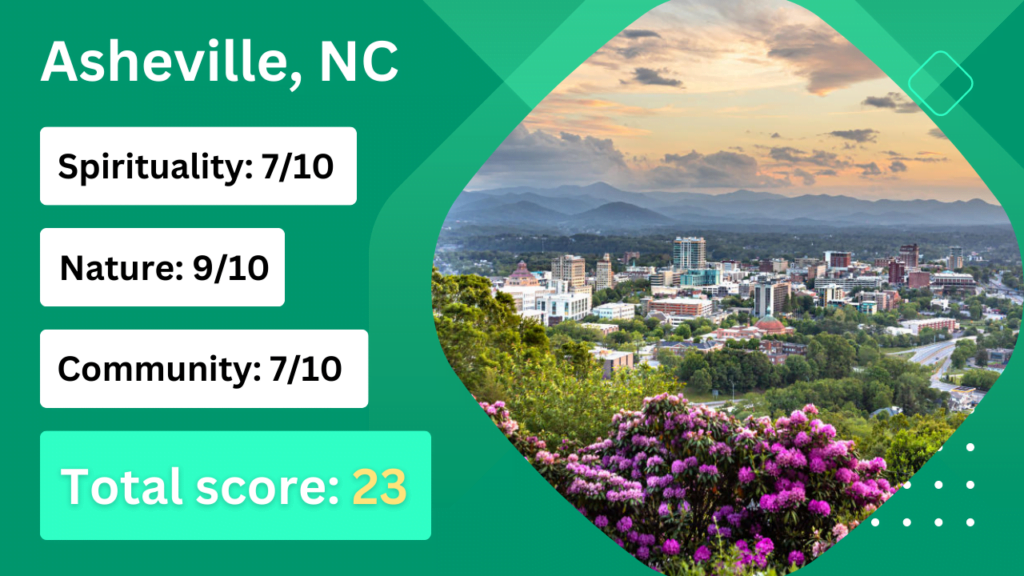 Nestled in the Blue Ridge Mountains, Asheville is believed to be conducive to spiritual growth and healing. The area is believed to be sacred by indigenous tribes that lived there before it was settled.
Asheville has a robust community of healers, yoga practitioners, and meditation centers. Asheville was also a hub for new age thought and hippies during the 1960s and 70s. This has then matured into the spiritual center in North Carolina that it has become today.
Asheville is an open minded city full of spiritual centers and surrounded by majestic mountains, what more could you want!
Notable locations: Mountain Light Sanctuary
9. Santa Fe, New Mexico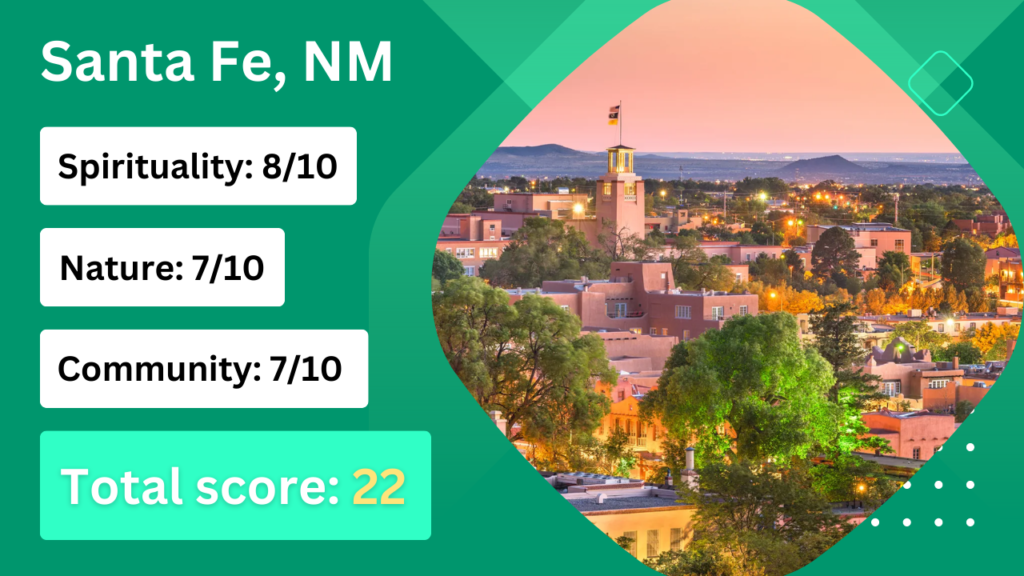 Santa Fe, NM hosts a deep spiritual tradition starting with the Pueblo tribes that live in the area. Indigenous healing traditions, new age practices and spiritual centers converge in this New Mexico town.
Santa Fe is known for its high altitude and clear night skies. The infinite cosmos are totally visible to residents of Santa Fe which is thought to foster universal connection and wonder.
This town in New Mexico has a whole host of retreat centers to find a spiritual community of like minded individuals.
Notable locations: Upaya Zen Center
10. Boulder, Colorado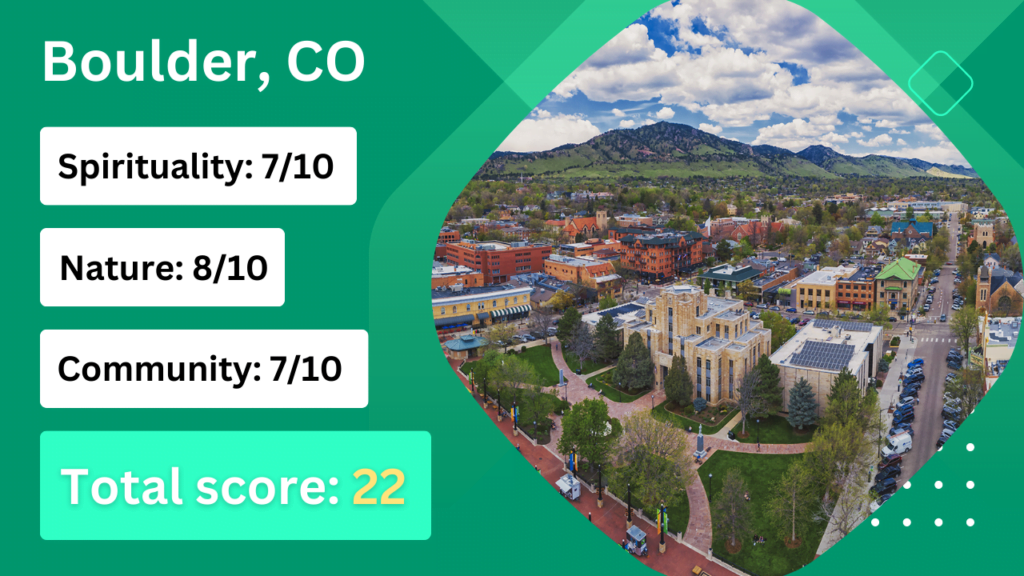 Like several other cities on this list, Boulder began its spiritual tradition with the counter culture movements of the 1960s and 70s. Since then, Boulder has become a hub of conscious thinking and spiritual tradition.
This city in Colorado is known for its many spiritual centers and history of new age philosophy.
Boulder's spiritual background is one of the most diverse on the list pulling from Buddhism, Hinduism, Sufism, and New Age philosophy.
This combined with the rolling mountains of Colorado makes Boulder one of the best spiritual locations in the United States.
Notable locations: Rinpoche's Naropa University & Unity Columbine Spiritual Center
11. Austin, Texas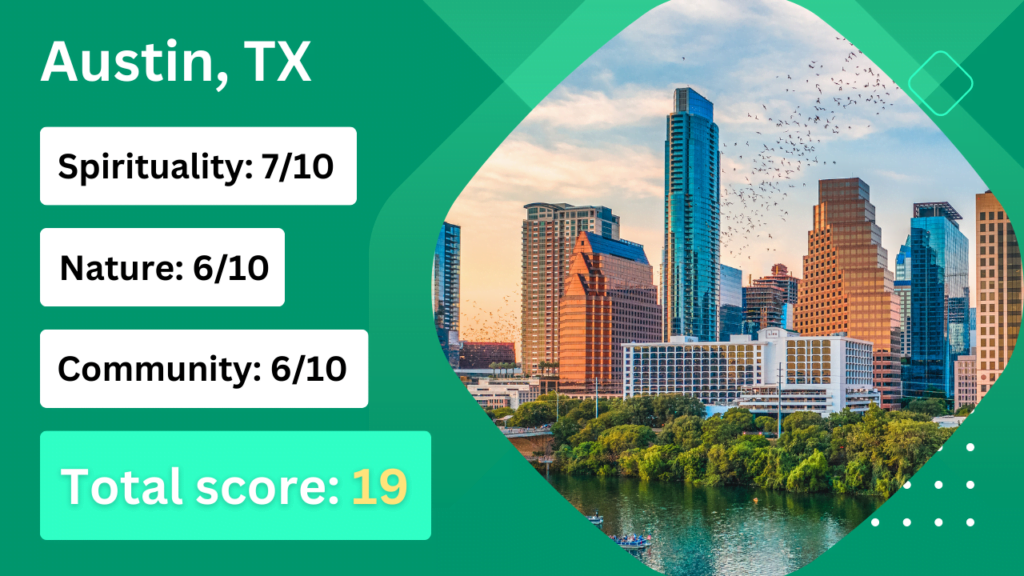 If you're looking for a big city that has a spiritual edge, Austin Texas is right for you. Austin is known for it's alternative thinking, nature, and diversity of spiritual traditions.
Austin combines creativity with spirituality in many regards. Over the last few years Austin has seen a boom in their wellness industry, leading to an increase in meditation, yoga, and spiritual businesses in the area.
There's a plethora of religious and spiritual groups to choose from in Austin as it is such a big city that pulls from several traditions.
Conclusion
Whether you're looking to vacation in a spiritual location or move there for the long term, there are no shortage of spiritual communities in the United States. I hope this list helps you determine where your next spiritual adventure takes you. Best of luck on your journey.
Peace and love.